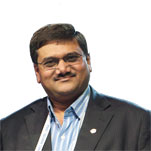 Jagat Shah
His philosophy of life : Action @ Speed of thought
Former Foreign representative of Government of Manitoba, Canada in India
Chief Mentor : www.mentoronroad.com
President, Founder & Chief Mentor :
Cluster Pulse – an economic development agency
Global Network – an international trade advisory firm
Global Network Institute – an international trade training school
Vice President – United States – India Importers Council ( USIIC )
Associate Director – German Indian Business Centre ( GIBC )
Jagat Shah is a PHD in international business, studied for MBA (International trade) graduating from Delhi University & is a certified cluster development practitioner, trained & certified by UNIDO / ILO at Turin, Italy. He has additionally graduated in Diamond technology from Indian Diamond Institute (IDI), Surat. He is a certified management consultant (CMC) from ICMCI, USA.
In last 25 years of his career, he has worked on international market & investment strategies with Indian, Canadian, American, European & Chinese companies & governments. Through his ISO certified economic development agency, he has worked with cluster development approach on poverty alleviation and Small & Medium Enterprise (SME) competitiveness with several governments & private sector in 20 countries - India, USA, Canada, China, Brazil, South Africa, Senegal, Kenya, Tanzania, Uganda, Sweden, Finland, Germany, Serbia, Croatia, Italy, UAE, Oman, RAK, Brunei, Bangladesh, Pakistan, Afghanistan, Indonesia, Singapore, Malaysia besides several states in India. He contributes to these efforts from his head office at Ahmedabad in Gujarat.
He was the Former Foreign representative of Government of Manitoba, Canada in India for trade & investment for nine years.
Since last 22 years, he runs Global Network : www.globalnetworkindia.com , an international trade advisory firm having led 166 trade & investment delegations from India to abroad for pre-fixed P2P & B2B meets. His company consults Corporates & SME's on international market strategy & approach. He has also hosted 34 delegations from abroad to India for trade & investment mat making with government, public & private sector companies. Also works as advisor for setting up industrial parks & SEZ's.
Since last 21 years he runs Global Network Institute : www.gninstitute.com , an international trade training school, having conducted 149 batches of international market access course attended by 4000+ students & conducted 400+ international market seminars in India & abroad.
Since last 15 years, his ISO certified, not-for-profit, professionally run, economic development agency Cluster Pulse: www.clusterpulse.org has worked in 102 clusters in 20 countries – both, developed & developing ones besides India. Cluster Pulse has executed cluster development projects for USAID, German GIZ, World Bank, IFC, UNIDO, ADB, British DFID, The European Union, The Commonwealth Secretariat, ILO, Microsoft, Nokia, Govt of Canada, Govt. of Oman, Govt. Of Brunei, Govt. of Italy, Govt of Senegal several ministries of Govt. of India & State Govt. of India. He was the team leader of Govt. of India team to design the National ICT policy for SME's.
The most challenging project of his lifetime has been in Afghanistan where he worked with 20,000 carpet weavers, 6,000 dry fruit farmers & 2,000 handicraft artisans to not only take them out of poverty but to make them into exporters with warehouses & offices in USA, Germany & India. He strongly believes that if change can be brought about in Afghanistan, then it can be brought about in any country in the world.
He is a mentor on Road & he went around the country by self driving to 35 cities, 18 states & 9800 kms to meet SME's, rural enterprises & start ups to propagate Make In India concepts & to understand their problems & submitted a report to Prime Ministers' office : www.mentoronroad.com.
In 2017, in partnership with US Commercial Service ( USCS ) & Start Up India, from June to September, as a Mentor on road, he drove 16500 kms to 35 states and 35 cities in USA, meeting 3000 American SME's, 700 Start ups, 400 women owned businesses & 1500 members of Indian diaspora to connect them to India.
www.mentoronroad.com/usa
He is presently working on a startup :
Market research firm: www.vibrantmarkets.biz He is the Director of Innovation Warehouse at Indus Innovation Centre at Indus University in India : www.indusuniversity.in His company Global Network was the Chief Mentor of :
His 300+ articles have been published in world press on international trade & Cluster development initiatives.
He is an innovator in idea generation & only takes up such projects which has an innovative approach because only then it is challenging to him.
He is managing trustee of 2 charitable trusts. He is a Rotarian.
His 300+ articles have been published in world press on international trade & Cluster development initiatives. He shares his experiences with students of management in 20+ countries.
His email ID : jagat@globaljagat.com
His hand phone : +91-98255 06441

www.facebook.com/globaljagat

www.linkedin.com/in/clusterpulse
His place of Karma :
1001, 10th. Floor, Safal Prelude, Prahladnagar, Ahmedabad Gujarat – 380015 INDIA